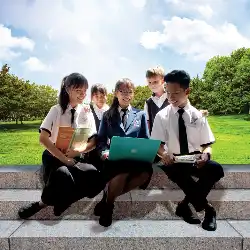 History of Sri Bestari International School
Lang Education Sdn Bhd or in short, LESB, is a wholly own subsidiary of Land and General Berhad (LGB). Under LESB, Sri Bestari International School commenced with its first intake in 2017 with the school adapting the UK curriculum to provide an alternative option to its township as well as surrounding areas. 
Developed on 15-acres of land, aiming to become one of the leading international school KL, Sri Bestari International School homes over 50 spacious and airy classrooms, 8 studios covering Music & Performing Arts categories, an indoor and outdoor playground, 10 fully equipped labs for all subjects in the Sciences, ICT and Culinary, a football field, a basketball court, a tennis court, a 25-meter swimming pool, an indoor multipurpose and sports hall as well as an auditorium with a capacity of 420pax. Thus providing students with a conducive learning environment that not only promotes green living but an active lifestyle as well.
In 2019, Sri Bestari International School had begun operating in its new campus. 
As of September 2020, Sri Bestari International School will kick off its first batch of Year 10s; where students will graduate in 2022 upon completion of their IGCSE O'Levels.
JUNE 2017
Sri Bestari International School holds its first student recruitment.
SEPT 2017
Sri Bestari International School has its inaugural intake.
MAR 2018
Sri Bestari International School campus begins development and construction.
SEPT 2019
Sri Bestari International School moves into new campus ground and begins its 2019/20 Academic Year.
JAN 2020
Sri Bestari International School launches its school campus.
The philosophy at SBIS is to provide our students with high quality yet affordable education. Equipping our students with the necessary skills, confidence and abilities to cultivate their minds and values which will positively contribute to society. We provide the best people with unique and tested teaching methods to achieve this.
Our core value, G.R.I.T. (Gratitude, Resilient, Intentional Inconvenience and Teamwork), is a testament to this underlying philosophy. A philosophy which is consistent with LESB's Mission in developing, educating and training our students to become outstanding leaders of tomorrow. We believe G.R.I.T. to be pivotal importance in learning the much-needed tenacity, in picking themselves up repeatedly, braving the obstacles in their life's journey ahead.
SBIS is committed to developing future leaders empowered with a growth mindset. The students of SBIS will be one that has a constant yearning to learn and to broaden their horizons. They will be determined to make a positive difference in every aspect of their lives as a part of society without losing sight of their origins.
A student's progress is constantly monitored by the teaching faculty to ensure all students are given the proper guidance and care. By providing various platforms for them to explore and discover themselves; SBIS encourages them in their schooling journey and ultimately to be intentional in building their own identity intellectually, physically and emotionally.